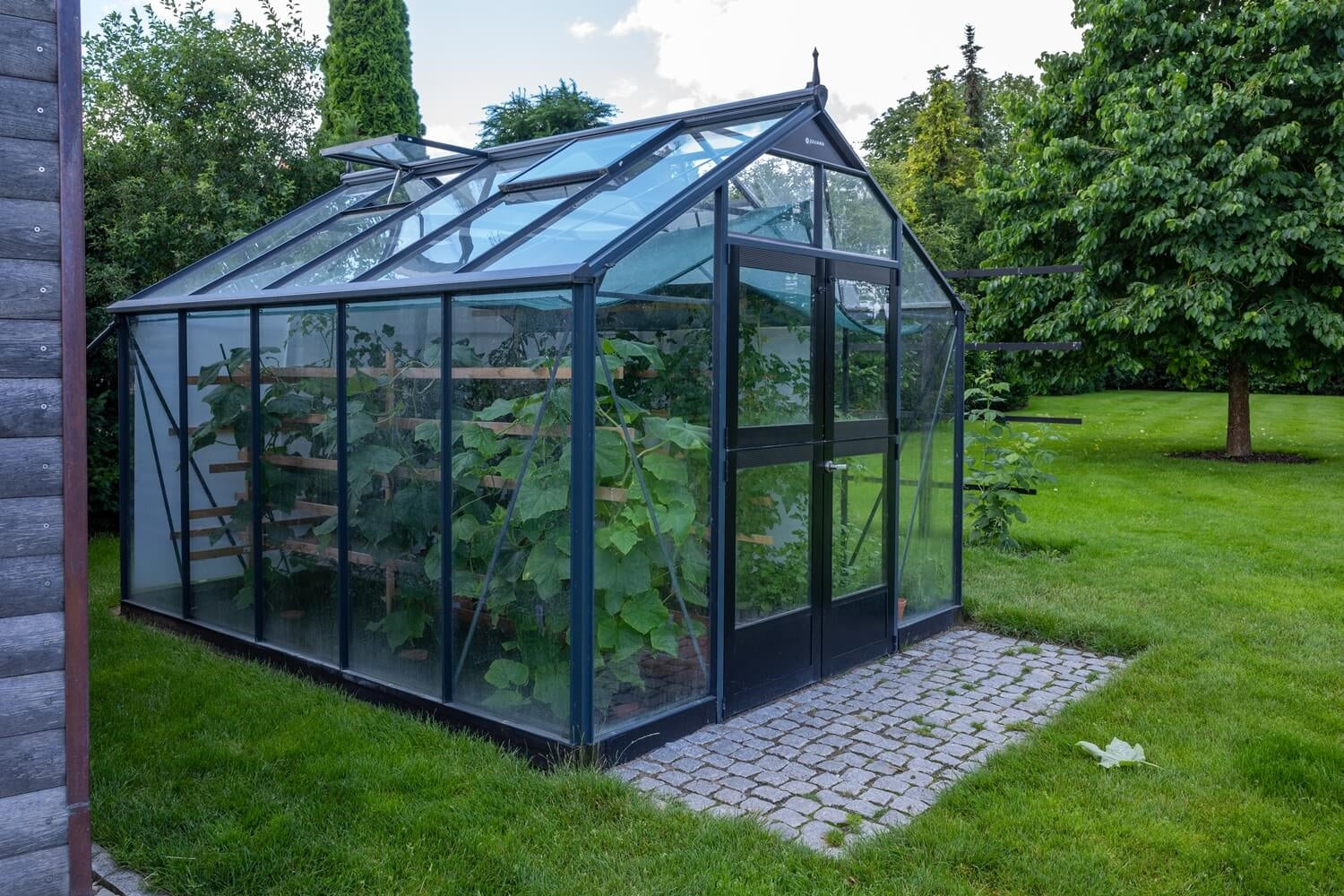 How to Replace a Greenhouse Panel
Maintaining your greenhouse properly is essential for ensuring optimal plant growth and effective protection against the elements. However, no matter how careful you are, greenhouse panels are susceptible to wear & tear, ageing, or damage.
If this sounds familiar, don't worry. Replacing a greenhouse panel is easier than you may imagine. With a few simple tools and the right materials, replacing a panel and restoring your greenhouse to its full glory is simple.
Let's walk through everything you need to know about how to replace a greenhouse panel.
Understanding Greenhouse Panels
The first step in replacing a greenhouse panel is choosing the right material for the job. At Plastic Solutions, we have a panel type for every requirement and budget. These panels vary in terms of durability, light transmission, and insulation properties.
Let's explore the different greenhouse panel options and discover which one is best suited for your specific requirements.
This is an excellent choice for greenhouses. Perspex greenhouse panels won't break the bank and have properties that make them highly suitable for greenhouse applications. Acrylic sheets, commonly known as Perspex, offer exceptional clarity, allowing maximum sunlight to penetrate the greenhouse while providing excellent UV resistance.
Durability: 50 times stronger than glass.
UV Protection: Our acrylic sheeting has integrated UV protection to combat discolouration.
Light Transmission: Allows more than 90% of light to pass through.
Thickness: 

 

3mm, 4mm, 5mm.
If you are looking for a practical yet cost-effective solution, then acrylic sheeting is a fantastic option.
Everybody knows the saying - "People who live in glasshouses shouldn't throw stones." However, we could add this proviso – "Unless they are using polycarbonate sheeting."
This is an amazingly strong, lightweight, and highly durable material that has revolutionised the greenhouse industry. Polycarbonate greenhouse panels are renowned for their exceptional impact resistance, making them virtually unbreakable.
Durability: 200 times stronger than glass.
UV Protection: At Plastic Solutions, all our polycarbonate sheeting has double-sided UV protection.
Light Transmission: Up to 90%
Thickness: 3mm, 4mm, 6mm.
Because of its strength, polycarbonate sheeting can add structural integrity to your greenhouse.
This has all the benefits of standard polycarbonate sheeting, but the integration of air pockets or "flutes" in the sheet adds to its thermal and insulation properties.
Our multiwall polycarbonate sheet comes in three thicknesses:
This is the perfect greenhouse roofing choice for when temperatures need to be kept as constant as possible.
Buying Your Greenhouse Panels
At Plastic Solutions, we have made it easy for you to buy the perfect size of panel for your greenhouse. Our free cutting service allows you to order the exact size you need, and we will deliver it pre-cut right to your doorstep.
Better yet, you only have to pay to the nearest square meter.
Tools and Materials Needed
The good news is that there are no specialised tools or equipment needed to replace a greenhouse panel. The following tools and materials will suffice in most circumstances:
Tools
Screwdriver (appropriate size for the panel fasteners)
Utility knife or panel-cutting tool
Measuring tape or ruler
Caulking gun (if sealing is required)
Safety gloves and safety glasses
Ladder or step stool (if necessary for accessing the panel)
Materials
Greenhouse panel (acrylic, polycarbonate, multiwall polycarbonate)
These tools and materials can be obtained from various sources, but for convenience and quality assurance, Plastic Solutions offers a wide range of greenhouse panel options, along with recommended fasteners, sealants, and tools.
The Importance of Safety Precautions
Now that you have your panels and equipment organised, it is almost time to replace your panel. But safety is of paramount importance, and some essential safety measures should always be followed:
Safety Gear: Gloves and goggles are the first order of the day when it comes to safety.
Working at Heights: Use a sturdy ladder or step ladder that is well-supported and positioned on a level surface.
Handling Panels: Avoid mishandling heavy panels and always be mindful of sharp edges.
Follow the Manufacturer's instructions: adhere to any specific guidelines noted by the manufacturer.
Remember, if you are uncertain or inexperienced, it is advisable to seek professional assistance or guidance.
A Step-by-Step Guide to Replacing a Greenhouse Panel
The process of replacing a greenhouse panel is within the scope of most people with a modicum of DIY skills. In this guide, we break down the steps needed into two distinct phases.
The first part covers the removal of the panel or panels to be replaced.
Removing the Old Panel or Panels
Start by locating and removing any fasteners or clips securing the panel.
Using a screwdriver or other appropriate tool, carefully pry the panel from the frame. (Always be cautious of sharp edges or fragments.)
Clean the frame and remove debris, old sealant, etc., in preparation for the new panel's installation.
Remember to follow the safety guidelines throughout the process.
Installing a New Greenhouse Panel
Now, we get to the crux of the matter – installing your new greenhouse panel and restoring your greenhouse to its productive best!
Measuring and Cutting Your Panel
At Plastic Solutions, we can cut your panel to precise dimensions, but there may still be some trimming and adjustments to be made. However, following the instructions below should keep this to a minimum:
Measure the dimensions you require. This can be done from the size of the opening, or if you have the existing panel, this can be used as a template.
Once you have your panel use a utility knife or panel-cutting tool to make any necessary adjustments.
Remember, "measure twice – cut once" always double-check your measurements before proceeding.
Installing Your New Greenhouse Panel
Before you proceed with the installation, check that the frame where it is to be seated is fully cleaned and ready to take the panel. After this, the following steps will walk you through the procedure:
Position the new panel in the frame, making sure it is aligned correctly.
Depending on the panel type, use the recommended fastenings to secure the panel in place. (Plastic Solutions can supply the necessary accessories and tapes to secure your panel.)
Ensure that the fasteners are evenly spaced.
If necessary, complete the installation with weatherstripping or sealant around the edges.
It's as simple as that! But to help you even further, Plastic Solutions has compiled a few hints and tips to help you.
Hints and Tips for a Successful Greenhouse Panel Installation
Take your time: Rome wasn't built in a day! A little extra time and care will ensure that your new panel lasts for years to come.
Many hands make light work: Although lightweight, panels can be tricky to handle on your own, especially at heights. An extra pair of hands can make the job so much easier.
Accuracy: Always double and triple-check measurements and alignments,
Use the right fasteners: Ensure you are using the recommended fasteners for your specific panel type. This will provide the necessary stability and support.
Apply even pressure: This ensures that the panel achieves a snug fit with no gaps.
Aftercare and Maintenance
Once your new greenhouse panel is installed, you will want to make sure that it stays in prime condition for years to come. The first step is always to use quality materials like those supplied by Plastic Solutions.
Here are some other tips to help you with the aftercare and maintenance of your new greenhouse panel:
Regular Cleaning: Use mild detergents or specialised greenhouse cleaners to keep your panels clean and performing at their full potential. Remember to never use abrasive cleaners on your panels.
Regular Inspections: Routine inspections should include the sealant, fasteners, and other signs of damage or wear & tear.
Keep clear of snow and debris: During periods of heavy snowfall, remove snow buildup from the panel's surface. Also, regularly clear away fallen leaves, branches, and other debris that may accumulate on the panel.
With a little care and attention coupled with quality materials and fittings, you can get years of green-fingered goodness from your greenhouse panel.
Seeing Clearly: Reap the Benefits of New Greenhouse Panels
This guide explored all the essential steps required to successfully and easily replace a damaged or worn greenhouse panel. By choosing the right material, such as acrylic sheets or polycarbonate, you can ensure durability, light transmission, and insulation in your greenhouse.
Remember the key steps: safely remove the old panel, measure and cut the new panel accurately, and secure it in place with recommended fasteners. Priortise safety precautions throughout the process and take advantage of Plastic Solutions' free cutting service for a perfect fit.
If you need any further help, then our experts are ready to help you transform your greenhouse into the perfect environment for your plants to thrive.
Contact Us today for an easy way to revamp your greenhouse into an environment that nurtures growth, enhances productivity, and renews your love of gardening.
*Disclaimer: This is a guide only
It is important to note that different greenhouse setups and panel types may require specific adjustments or additional steps. This guide serves as a general reference and should be adapted to suit your particular circumstances. Always refer to the manufacturer's instructions and guidelines for your specific greenhouse and panel type. If you are uncertain or unfamiliar with the process, it is recommended to seek professional assistance or consult with an expert in greenhouse maintenance and repairs. The information provided here is for informational purposes only, and we assume no liability for any damages or issues arising from the use or application of this guide.