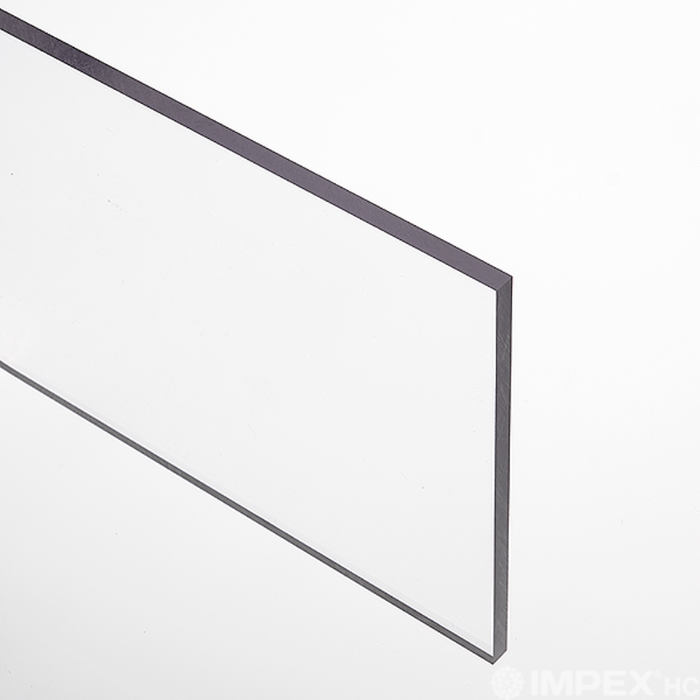 Solid Polycarbonate Sheet
Polycarbonate is half the weight of glass and virtually unbreakable; 200 times stronger than glass. It meets the most demanding machinery, automotive, safety and construction applications. It is used extensively in skylights, walkways, flat or curved glazing (canopies), leisure, sports, and various architectural applications. Our polycarbonate sheet has UV protection on both sides.
3mm and 4mm Polycarbonate sheets suit cold curved applications such as half-barrel vault walkways, bike shelters, smoking shelters and sports dugouts. Whilst it is possible to cold curve thicker sheets, the sheets become increasingly more rigid as you go through the different thickness gauges.
For roofing, the thickness required can vary depending on the project's specific requirements, including factors such as the size of the roof, the location, and the intended use of the building. However, in general, solid polycarbonate sheets for roofing applications are typically available in thicknesses ranging from 6mm. Thicker sheets are generally recommended for larger roof spans or for additional strength and rigidity.
More reading:
Applications
Skylights

Walkways

Flat or Curved Glazing 
Pergolas
Lean-to Roofing
Delivery
Collection - Free
Orders are generally shipped within one to three days of order placement.
Shipping fees are calculated at checkout.
Rates start at:

Dublin:
Sheets from €35/order (up to 15 sheets)
Accessories €10/order (free, if included with sheets order)
DIY Kits from €50/order

Other Counties & Northern Ireland:
Sheets from €35/order 

(up to 15 sheets)

Accessories €10/order (free, if included with sheets order)
DIY Kits from €65/order
Discount Rates:
Free Shipping for orders over €2,000 (exc VAT)
75% off Delivery Charges for orders over €1,600 (exc VAT)
50% off Delivery Charges for orders over €1,100 (exc VAT)
25% off Delivery Charges for orders over €600 (exc VAT)
Cut to Size Service
We offer a free cut-to-size service!
You can enter cutting details in your order notes when viewing your cart at checkout.
For more complex fabrication cuts like circles or angles, we can connect you with our trusted partners for expert assistance.
Polycarbonate Sheeting  FAQs
What is polycarbonate sheeting?
Polycarbonate is a thermoplastic material whose fantastic properties and versatility make it the perfect material for a wide range of applications.
The structure of the plastic comprises carbonate groups. This allows the material to be strong and flexible at the same time. It is widely used in glazing thanks to its unique combination of clarity, strength, and UV resistance.
How strong is polycarbonate sheeting?
When compared to float glass of similar thickness, polycarbonate is almost 200 times stronger. It is also highly impact-resistant, making it a common choice in security applications.
Polycarbonate also fares favourably against other plastic options. For instance, it is 30 times stronger than a comparable acrylic sheet.
What are the uses of polycarbonate sheeting?
Polycarbonate is such a strong, versatile, and safe material that it is used in a massive range of applications. The list is so long that it is impossible to list them all here. But common examples of polycarbonate sheeting applications are: -
Greenhouses, canopies, skylights, walkways, bus shelters, roofing panels, and security glazing.
What is the difference between polycarbonate and acrylic sheeting?
These are two materials that look identical but have distinctly different characteristics. The major difference between them is impact strength. This is one of the primary deciding factors when choosing which material to use. Compared like-for-like polycarbonate sheeting is approximately 30x stronger than acrylic sheeting.
We have put together a handy guide covering the differences between the two materials, which can be found here.
Is polycarbonate sheeting safe for food surfaces?
No polycarbonate sheeting should not be used for food surfaces. If you are looking for a material for food counters, we would recommend Clear PETg. This is a polyester material that has many of the same characteristics but is completely safe for food surfaces.
How long does polycarbonate last?
Polycarbonate is a robust and long-lasting material. How long it lasts is affected by factors like the type of usage and how much wear and tear it is exposed to. But on average, you can easily expect a minimum of 10 years and potentially as high as 20 or more years.
Is polycarbonate easy to work with?
Yes, its lightweight characteristics make it easier to handle and install than glass sheeting. It is also easy to cut and shape, which requires no specialist equipment and can be performed by any competent DIYer.
Polycarbonate sheeting can also be drilled easily, although it is recommended that a drill bit designed for plastics is used.
Can you bend polycarbonate sheets?
Yes, polycarbonate sheeting can be either hot or cold bent. Despite its strength and robustness, the carbonate groups that form the material allow for plenty of flexibility.
Depending on the amount of bend required, you may need to use a bending tool to shape the material correctly.
Can polycarbonate sheets cope with extremes of weather?
Yes, polycarbonate is incredibly robust and easily withstands everything from the baking heat of a midsummer's day to the freezing hail and wind of the Irish winter.
It is also highly resistant to UV radiation, which gives it plenty of protection from sun damage.
Is polycarbonate sheeting better than glass?
No matter what criteria you choose, polycarbonate works out as a better option than glass. It offers the same degree of clarity but is 200x stronger, impact-resistant, lighter, easier to install, and robust enough to last for decades.