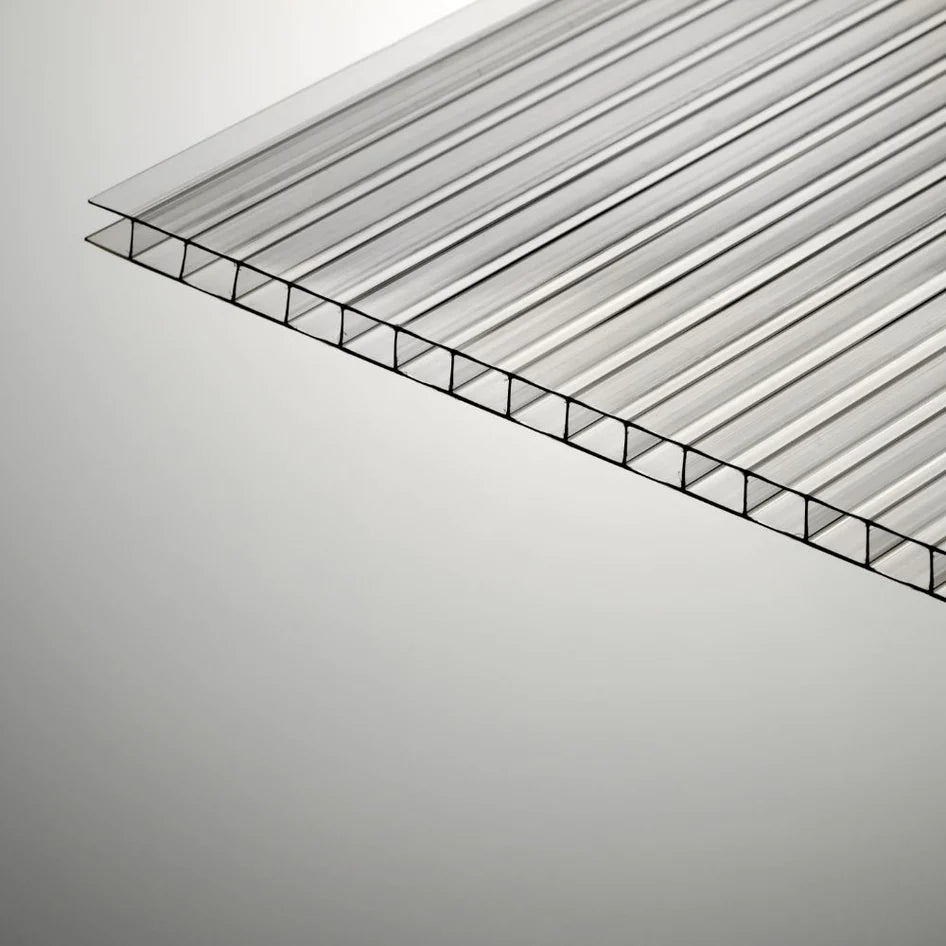 Why Choose Multiwall Polycarbonate Roofing Sheets
Multiwall polycarbonate roofing sheets are incredibly popular for both commercial and domestic uses. As an alternative to glass roofing sheets, they offer a huge number of benefits. This article will cover these benefits in detail, they include:
Up to 200 times stronger than glass

Lightweight

UV protection

Great sound and thermal insulation
There are different categories and types of multiwall polycarbonate sheeting to choose from. So, before we dive into the benefits, it is worth learning a little more about polycarbonate sheets.
What is multiwall polycarbonate roofing sheeting?
Multiwall polycarbonate panels are a plastic-based alternative to glass. They are a versatile glazing solution that can be used in a huge range of applications, including: 
Roofing panels

Skylights

Canopies

Shelters

Screens
These are just a few of the many potential uses of multiwall polycarbonate sheeting.
The sheeting comes in different thicknesses, three of which are the most commonly used, these are: 
10mm –

This is often referred to as (Twinwall)

16mm –

(Triplewall)

25mm –

(Fivewall)
As well as coming in different thicknesses, there are also colour options available. The thicker sheeting is available in clear or an opal-white or bronzed tint, with the 10mm option available in clear only.
The sheeting is manufactured in layers. This gives it superb thermal and sound insulation and also has excellent UV-blocking characteristics.
The Benefits of Multiwall Polycarbonate Roofing Sheets
When compared to glazing alternatives, there are plenty of advantages to using polycarbonate sheeting. A few of the major ones are listed below:
Energy Efficiency and Thermal Insulation
These days more than ever, we are more acutely aware of the need to cut down on energy usage. Soaring energy costs and environmental concerns have combined to create a worldwide energy crisis.
The superb thermal insulation qualities of multiwall polycarbonate sheeting make it a green and energy-efficient choice for many kinds of glazing projects. It easily outperforms traditional glass when similar thicknesses are compared, although highly specialised (and expensive!) glass does fare better.
Multiwall Polycarbonate roofing sheets are incredibly strong
In fact, they are virtually unbreakable. Even when compared to safety glass, polycarbonate sheeting outperforms it in impact tests. When compared to like-for-like, multiwall polycarbonate sheeting is over 200 times stronger.
This durability makes it a great choice for anywhere where damage is likely to occur. This includes security uses, greenhouses, and bus shelters, to name a few.
Impressive UV performance
Multiwall polycarbonate panels block most of the sun's harmful UV rays yet still let the sunlight stream through. Depending on the thickness of the sheet you choose, polycarbonate sheeting can block up to 98% of UV rays.
Lightweight and Easy to Install
Again, when comparing it to glass in this category, multiwall polycarbonate sheeting is the hands-down winner. Because it is so robust and lightweight, it is far easier to work with when compared to glass.
It is also easier to cut, with no special tools required. Additionally, at Plastic Solutions, we can cut your multiwall polycarbonate roofing sheets to size at no additional cost. This also includes sealing the edges of the sheet with breathable tape.
Long-Lasting
Most multiwall polycarbonate roofing sheets are protected by lengthy warranties. At plastic Solutions, we offer a 10-year warranty on our multiwall polycarbonate sheets. However, if properly maintained, you can expect them to last years longer than this.
Fantastic Sound Insulation Properties
The layers that are at the heart of multiwall polycarbonate sheeting construction also means they offer great sound insulation properties. But this isn't the only trick up its sleeve when considering sound insulation. The material also has characteristics that reflect sound waves. This aids it in cutting down sound penetration.
Fire and Heat Resistance
Many people believe that plastics are a fire hazard. While many are, the same cannot be said when polycarbonate sheets are being discussed. Polycarbonate sheeting can withstand a temperature range of between -40° C to +130° C. It is also certified to the European EN13501 fire safety standard.
Conclusion
Long-lasting and virtually unbreakable, multiwall polycarbonate roof sheeting outperforms alternative materials in just about any metric. This versatile, environmentally friendly, and robust glazing choice is perfect for a huge variety of purposes.
At Plastic Solutions, we make purchasing and installing your sheeting easy. We can professionally cut your sheets to size, and our experts will be delighted to help you choose the perfect option.
Why not contact us today and let the light shine through with a multiwall polycarbonate roofing sheet glazing solution.