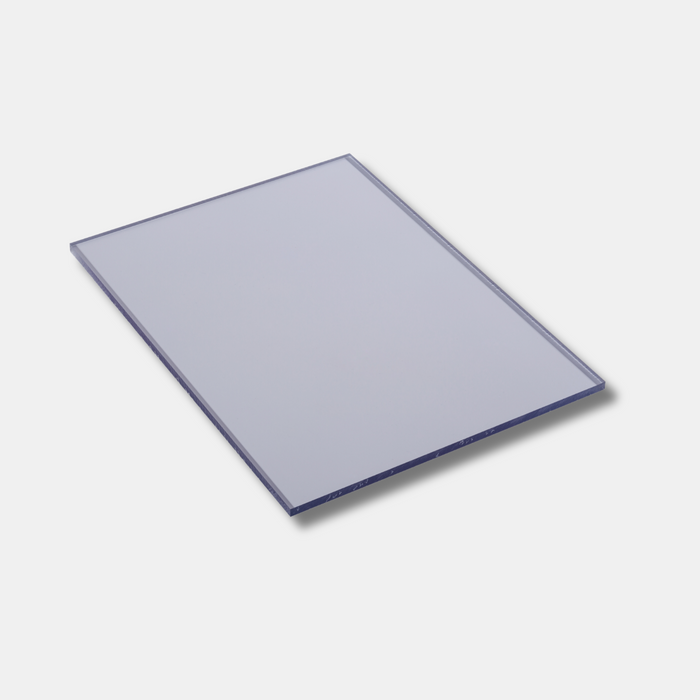 Abrasion-Resistant Clear Polycarbonate Sheet
A technologically advanced solution for long-lasting protection and enduring transparency.
Our Abrasion-Resistant Polycarbonate Sheet offers the same exceptional performance as our standard polycarbonate sheets, boasting high-impact resistance and excellent UV protection.
What sets our Abrasion-Resistant Sheet apart is its cutting-edge surface coating, providing unparalleled resistance to abrasion and chemicals. This feature ensures that the sheet maintains its pristine appearance, even in applications subject to high levels of wear and tear, such as architectural glazing, public space installations, manufacturing environments, highway sound barriers, and more.
Moreover, our sheet is ideal for protective shielding and safety polycarbonate glazing, serving applications in machinery, exhibits, or displays. It is also suitable for vehicular glazing, including side or rear windows and windshields on ATVs, golf carts, or other vehicles.
Main Advantages:
One or both sides abrasion resistant
Resistant to vandalism, scratches, and chemicals
Impact resistant and virtually unbreakable
Up to 90% light transmission
Offers superb acoustic insulation
Provides superior UV protection, surpassing that of sunscreen lotions
Lightweight and easy to install
Applications
Safety glazing
Security and ballistic-resistant glazing
Anti-vandalism glazing
Prison windows
Acoustic barriers
Protective guards and shielding for equipment, manufacturing spaces, and public spaces
Transportation shelter glazing, such as bus stops
Protective shields for police or security forces
Protective helmet visors
Delivery
Collection - Free
Orders are generally shipped within one to three days of order placement.
Shipping fees are calculated at checkout.
Rates start at:

Dublin:
Sheets from €35/order (up to 15 sheets)
Accessories €10/order (free, if included with sheets order)
DIY Kits from €50/order

Other Counties & Northern Ireland:
Sheets from €35/order 

(up to 15 sheets)

Accessories €10/order (free, if included with sheets order)
DIY Kits from €65/order
Discount Rates:
Free Shipping for orders over €2,000 (exc VAT)
75% off Delivery Charges for orders over €1,600 (exc VAT)
50% off Delivery Charges for orders over €1,100 (exc VAT)
25% off Delivery Charges for orders over €600 (exc VAT)
Cut to Size Service
We offer a free cut-to-size service!
You can enter cutting details in your order notes when viewing your cart at checkout.
For more complex fabrication cuts like circles or angles, we can connect you with our trusted partners for expert assistance.