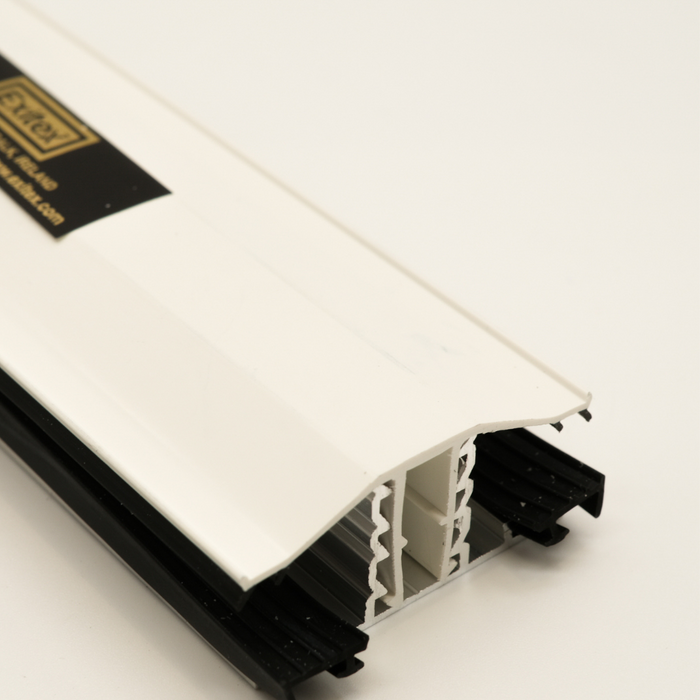 Glazing Bar Snap Down Bar 10-25
A variant of the Capex bar, the capex snap down has a rigid, flat aluminium base bar, combined with a UV stable pvc clip down or 'snap down' cover. Capex Snap Down 10-25 is an economy glazing bar ideal for roof canopies, lean-to roofs and shelters. The Capex Snap Down bar is used when you have rafters running horizontally from Left to Right, but you want to insert a sheet running vertically North/South.
The '10-25' description denotes that this snap-down bar is suitable for multiwall polycarbonate thicknesses from 10mm up to 25mm.
Sizes available
3.0mtr / 5.0mtr lengths


Colours
with White or Brown PVC snap-down cover


Transport / Shipping notes
Best transported lying flat. These bars have a 
rigid

 
base and will not bend. You will need 3.0mtr or 5.0mtr horizontal clearance if collecting or transporting.
Delivery
Collection - Free
Orders are generally shipped within one to three days of order placement.
Shipping fees are calculated at checkout.
Rates start at:

Dublin:
Sheets from €35/order (up to 15 sheets)
Accessories €10/order (free, if included with sheets order)
DIY Kits from €50/order

Other Counties & Northern Ireland:
Sheets from €35/order 

(up to 15 sheets)

Accessories €10/order (free, if included with sheets order)
DIY Kits from €65/order
Discount Rates:
Free Shipping for orders over €2,000 (exc VAT)
75% off Delivery Charges for orders over €1,600 (exc VAT)
50% off Delivery Charges for orders over €1,100 (exc VAT)
25% off Delivery Charges for orders over €600 (exc VAT)